By Barbara Falconer Newhall
Wow. The other day I found four – count 'em four – brand new hundred-dollar bills in my sock drawer. They were tucked in an envelope with a note from my husband in bold red and green letters, "Merry Christmas, Barbara."
How in the world did that money get in my sock drawer?
The bills were nice and crisp. Jon had obviously made a special trip to the bank to procure them for me.
But I had to wonder, how long had that envelope full of cash been lying  in that drawer? Since Christmas 2010?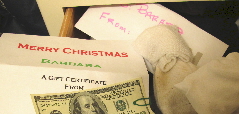 I had no memory of getting money for Christmas, let alone squirreling it away under my socks.
I tried to visualize last Christmas, but I could pull up no memories. Christmas 2010 fell seven days after my mother died. My guess is, I was in no mood to celebrate my little cash windfall, let alone go out and spend it.
I had to put it out of sight. There was too much joy in it.
We buried my mother in Michigan last summer next to my father, my grandmother, my aunt, my grand-aunt and my great-grandmother. I cried when I left her there, buried in the sandy soil along Lake Michigan.
She's there. I'm here. And I've got $400 to spend.
When I'm ready.
Another story about grief: "My Mother's Goneness."