By Barbara Falconer Newhall
Want to know more about the sex lives of Buddhist teachers in America?  The drinkers?  The womanizers? Are you considering downing some ecstasy, a bit of mushroom or other psychedelic to fast-track your spiritual growth? Wondering about that person in the meditation hall who seems to be having a psychotic break?
Jack Kornfield's latest book, Bringing Home the Dharma: Awakening Right Where You Are, isn't really a Buddhist tell-all. Kornfield hasn't put together this book to titillate.
He is a thoughtful, careful teacher. The dust jacket on his book touts him as one of the most respected Buddhist teachers at work in North America today, and I believe it.
But he is also a writer – and teacher – who likes to get to the bottom of things, to get past conventions and speak the truth. His years of training as a Buddhist monk in monasteries in Thailand, India and Burma, and his years of teaching at the Insight Meditation Society in Massachusetts and Spirit Rock in California have blessed him with a sturdy Buddhist equanimity in the face of the tough questions.
As a result, in this collection of essays originally published in books and in magazines like Shambhala Sun and Yoga Journal over the past two or three decades, Kornfield is able take on some delicate issues – Buddhism and sexuality, the uses of LSD, and spiritual crises in the meditation hall are just a few. He can address the touchy subjects calmly and thoroughly.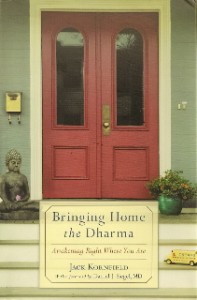 There's a lot of information in this book. Kornfield relates, for example, that a study of fifty-four Buddist teachers in America he conducted during the 1980s revealed that fifteen were celibate. Of the 39 who were not celibate, 34 had occasional sex with students – sometimes openly, sometimes not. And of the twenty who had spouses, seven were not entirely monogamous.
But there is also wisdom. "We need to accept our teachers as earthly human beings as well as bearers of wisdom and compassion," he writes. "After all, who among us have not, at one time or another, made idiots of themselves with regard to sex?"
Hmm. You mean I'm not the only one who . . . never mind.
Kornfield also offers a caveat to those who'd like to try LSD, ecstasy, mushrooms, ayahuasca or other brain-bending chemicals: Yes, psychedelics can open up the mind to visionary and mystical realms. But, no, they're not for everyone, especially not beginners or those with a history of drug or alcohol addiction. Get trained in mindfulness, compassion and equanimity before contemplating a chemical meditation enhancer, he advises.
Of all the essays in this book, most startling to me were the pages on "spiritual emergencies," in which raptures, body distortions, lights, inner sounds and voices can arise and overwhelm the unprepared meditator. Kornfield also describes an amazing process of inner deconstruction – something like the Christian dark night of the soul – that advanced meditators often experience.
There's a lot packed into this book. I recommend picking and choosing among the chapters, and reading them one at a time with space in between . . . for breathing.
"Bringing Home the Dharma: Awakening Right Where You Are," Jack Kornfield, Shambhala, 2011, $24.95 hardcover.
Another post on Jack Kornfield coming soon: "Buddhist Writing — Wisdom? Or Chicken Shit?" Meanwhile, check out "The Hagia Sophia — Where Traditions Meet and Clash."