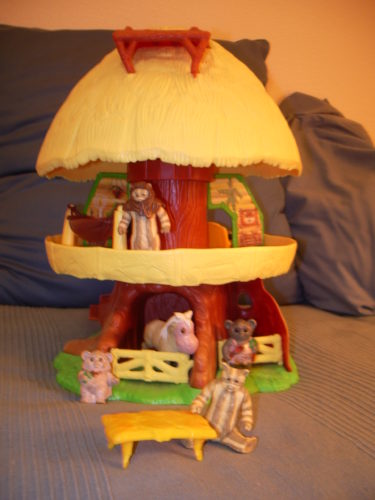 By Barbara Falconer Newhall, June, 1987
Some people can't resist chocolate. For others, it's clothes. Some folks, oddly enough, will spend $110,000 on a Ferrari with no back seat and hardly any trunk. Imagine that. For me, it's toys. As a consumer, toys are my weakness.
I don't mind wearing the same skirt to work week after week. In a restaurant, I am content with a plate of noodles and a clean tablecloth.
Guests in our house are invited to sit on a sofa shredded by cat claws and worn down by preschool mountain climbers.
I am not embarrassed by my unimaginative wardrobe, our 9-year-old stereo, my 13-year-old compact car with the squeaky clutch pedal, our threadbare furniture.
I am embarrassed by our den.
The den keeps me awake nights. The den is the main repository of my dirty little secret, my inability to say no to toys.
The den is a humble 14-by-15-foot space, pleasant enough, except that it has been asked to do the job of a Toys R Us Warehouse.
If there is a toy that stands a chance of furthering the cognitive, social, emotional or physical development of my 3-year-old or my 6-year-old, I have bought it.
We own – and mind you this is but a partial list of my excesses – 18 Fisher-Price people, the Fisher-Price zoo, farm, fire station, house, ambulance, moon rover, airplane and bus.
We possess a plastic dragon, a sting ray, a shark, a herd of plastic farm animals and 11 plastic dinosaurs.
Forty-three stuffed animals. Twelve puppets. Two kaleidoscopes. Three shape sorters. Two marble rollers. Two firefighter helmets. One police helmet. A Ninja knife and three toy guns.
Seven He-Man good guys, five He-Man bad guys. Four My Little Ponies.
We have an assortment of four-piece jigsaw puzzles, 12-piece jigsaw puzzles. Sixteen, 25-, 35-, and 49-piece jigsaw puzzles.
Christina, who is 3, used to love puzzles. She could do a 16-piece puzzle unassisted. Then I became ambitious for her and began bringing 25-piece puzzles into the house. She took up the yo-yo.
We own seven family board games, perfect for whiling away idle evenings at home. Except that we don't have idle evenings at our house. And beside, our kids cheat.
Our den also harbors two cash registers – for practicing up on that popular American pastime, shopping.
Also a doctor kit, presented to our daughter. No harm in introducing her to her options early. No nurse kit.
Three wooden block sets. Seven plastic block sets. Good for pre-math skills, I rationalize each time I write out a check for $15.
But a toy does not have to be educational, useful or purposeful to find its way into our house. Fun is enough.
The slide, the basketball, the croquet set, the indoor basketball net, the baby dolls, the play kitchen, the doll cradle, the indoor playhouse, the rocking horse that whinnies (if its batteries are not dead), and, yes, the battery-operated Ford pickup big enough for two small riders.
A working mother friend of mine says, "My husband thinks it's guilt. I work full-time so I just keep buying toys to make up for not being there. But I don't know, I see a toy. It looks like fun. I buy it."
Maybe that's it – we don't buy those roomfuls of toys for our kids. We buy them for the pleasure of buying them.
For some of us adults, the closest thing to fun in our overextended lives is a grueling 60-minute aerobics class sandwiched between the evening commute and dinner.
We may not have time to play a game of Cootie with our kids, but we do have time for the quick thrill of buying it for our toy cupboards.
Meanwhile, our kids are trying to tell us something.
Christina spent a happy afternoon recently with a pair of scissors, some tape and leftover wrapping paper – while our cats bat the mice from her new $30 mouse house around the living room.
Five-year-old Julia was given a box of pencils and a 50-cent pencil sharpener.
"She spent the whole weekend sharpening the pencils," said her amused mother. "She never looked at her new Barbie Corvette."
Sarah's mother has hit upon the solution for the likes of me, the mom who can't say no.
She had just come back from Toys R Us and was feeling a little gluttonous.
"Well, if I have bought too much," she sighed. "I won't take the extras back to the store. I'll take them up to the fire station and give them to the needy kids."
Presto. That's for me. Toy shopping without guilt.
This essay was first published June 7, 1987, in the Oakland Tribune
When I looked around the house for toys to photograph for this piece, I had no trouble finding several business boxes full of them neatly stacked in closets and storerooms. Blocks, trains, stuffed animals, the Fisher-Price farm, the fire station — all  carefully sorted and wrapped, some still gummy from my children's fingers,  all crying out to be taken off the shelf and played with.
As I look at these toys now, I see that, to the credit of their manufacturers, many of them were beautifully, ingeniously designed — especially the Fisher Price toys, the American Girl doll, the Ewok Hut (inspired by the "Star Wars" Ewoks), and the Snoopy puppy. No wonder I couldn't resist buying them.
It seems that, like a well-wrought story, a thoughtfully conceived toy has a way of going straight to a deep place in the human psyche — the place that wants to play.
Read more about the kids who played with these toys at "My Imperfect Children."