By Barbara Falconer Newhall
I really don't want to read about a bunch of macho guys trying to scale Mt. Everest and cluttering up the place with their camping litter, excrement and  frozen dead comrads. Nor do I want to read about a gang of twenty-first century macho fundamentalist Mormons dudes raping/marrying their 14-year-old Mormon nieces and stepdaughters — any more than I want to read about their 19th century macho Mormon predecessors doing the same to their helpless 14-year-old relatives.
But sometimes a reader gets desperate. Sometimes the only book on the shelf at the library (and in my case it would be a recorded book) — the only book worth taking home is about some jocks scaling Mt. Everest or some  fundamentalist Mormons acting badly.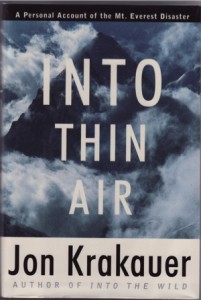 I give in. I take the book home with me.
The Everest book was Jon Krakauer's Into Thin Air. The Mormon book was his Under the Banner of Heaven. In both cases, I was skeptical. I wasn't going to like this book. But I'm a reader and I gotta have a book.
Now.
Once home, I pop CD No. 1 into my CD player and go for a walk. Now, Krakauer the storyteller has me where he wants me. And it isn't long — one chapter into the book — before I've fallen under his spell. I have to hear more.
Whether it's Into Thin Air, about Krakauer's disastrous 1996 ascent of Mt. Everest. Or whether it's Under the Banner of Heaven, his account of murderous fundamentalists practicing old-time Mormon plural marriage, I can't stop reading/listening.
But now my walking time is over. It's time to sit down to my computer and get some work done. Instead, I pop another disk into my CD player and look around for some pots to scrub or a parched houseplant to water.
Krakauer is a storyteller par excellence. But he is also a meticulous journalist — he spent three years researching Under the Banner of Heaven and one year writing it. Some Mormons will argue that this book is not entirely fair to the folks involved, but Krakauer is a researcher and he's thorough, so he has my respect.
More than that, he has my gut. He's telling me a story, a true (or close to it) story, peopled with people as real as the ones I've met in Anna Karenina or Gilead or Huckleberry Finn. Jon Krakauer is my idea of a good time.
Krakauer's next book, Where Men Win Glory: The Odyssey of Pat Tillman, is scheduled for release in September. Pat Tillman — that would be the football player who joined the Army Rangers, did a few tours of duty, and was killed by friendly fire in Afghanistan.
Sigh. Another guy book. I don't want to read it. But I'm pretty sure I will.
Into Thin Air: A Personal Account of the Mt. Everest Disaster, Jon Krakauer, Anchor Books/Doubleday, 1999.

Under the Banner of Heaven: A Story of Violent Faith, by Jon Krakauer, Random House, 2003.
Update: Yes, I read the Tillman book. And yes it was terrific. That Krakauer dude can write . . .  More recently, with Three Cups of Deceit, Krakauer challenges the veracity of Greg Mortenson's best-selling Three Cups of Tea.
For another post about the mysterious male sex, go to "Men's Secrets."
---