By Barbara Falconer Newhall
Writer's block? Not my problem. At least, that's what I thought until I read Jane Anne Staw's book, Unstuck: A Supportive and Practical Guide to Working Through Writer's Block.
During my many years as a newspaper reporter, it was sit down, write, meet the deadline or find some other line of work. End of story.
So, when I bought Jane Anne Staw's book a couple years ago, I did so, not because I thought I needed it, but as a courtesy to Jane Anne. I've bought dozens of books by friends and acquaintances over the years on the theory that when I get a book published it will be pay back time. (Right, Jane Anne?)
In other words, I bought, but did not read, Jane Anne's book.
Then, last December, crashing around the house, looking for something to take with me on our family road trip, I spotted Jane Anne's unread book, reproaching me from its bookshelf. I grabbed it up, headed for the car and took my assigned place (as the shortest in the family) in the back seat behind Peter (the tallest in the family), who was riding shotgun with the seat pushed back.
Things got boring somewhere along the 10 between West Hollywood and Joshua Tree National Park. So I pulled Unstuck out from under a pile of wet umbrellas and began to read.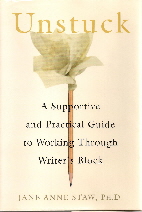 To my surprise, writer's block as Jane Anne describes it, is not always simple primal terror at the sight of a blank page. Writer's block can be subtle.
It can be the nagging sense that I don't have the right to write, that my thoughts are not as important as Marilynne Robinson's, say, or Richard Ford's.
It can be the belief that successful writers never procrastinate, never blush with embarrassment at what they've just written, never rewrite the same sentence eighteen times before throwing up their hands and going into the kitchen to do something useful, like empty the dishwasher.
It can be assuming that someone like Anne Lamott sits calmly at the keyboard while the limpid prose flows from her fingertips – when actually the real Anne Lamott probably rewrites sentences seventeen times, maybe eighteen until she finally gets it right on the nineteenth, and then the next day gets out of bed, has a cup of coffee, and ditches number nineteen for number twelve.
These are good tips from Jane Anne. But the most important lesson I learned between West Hollywood and Joshua Tree, was how important it is be aware of what kind of reader we are writing to. We need to make sure it's a friendly reader. In my case, not the English department professor at the University of Michigan, but someone nice – one of my sisters-in-law, my college roommate, the friendly woman sitting next to me in the shoe department at Nordstrom.
Somebody who likes and appreciates me – somebody like you, right? (You've gotten this far. I'm putting you down for a yes.)
Bottom line, Jane Anne Staw's book is a godsend for writers who are stuck and know it. It's also a great read – okay, a godsend – for people like me who need a deeper understanding of themselves as writers. And maybe don't know it.
Unstuck: A Supportive and Practical Guide to Working Through Writer's Block, by Jane Anne Staw, Ph.D.,  2003, St. Martin's Press, $23.95.
Note to writers (and speakers of English): Wondering whether to write/say "different than" — or "different from"? Me too. So I did some research and wrote a post.
Note to Jane Anne: My book is now thoroughly published by a publisher. It's "Wrestling with God: Stories of Doubt and Faith," Patheos Press, $14.95. It's the story my pilgrimage through the religions of the world in search of a way to believe in God — or something — in our globalized, multi-faith, post-enlightenment world. You can find it on Amazon and Indiebound. Any bookstore can get it for you. But, Jane Anne, you've already bought your copy. Right?