Jeff Greenwald read from his book at Book Passage bookstore in Corte Madera
By Barbara Falconer Newhall
One of the nice things about being a writer is that you wind up with lots of writer friends and acquaintances — poets, memoirists, biographers, sages, humorists. And it's always a pleasure to talk about their books.
Today I'd like to introduce two students of Buddhism. The first is Jeff Greenwald, author, storyteller, traveller, and master of the upstart art of finding God funny. The other is Kevin Griffin, a buddy from of one of my writing groups who has spent the past couple of decades uncovering and sharing the commonalities between twelve-step programs and the Dharma.
Jeff Greenwald: Shopping for Buddhas
I've been hoping for some time to get my hands on a copy of Jeff's merry book, Shopping for Buddhas. It's the story of his youthful search through the streets and bazaars of Kathmandu for the perfect Buddha statue.
Buddhism plus shopping? With a dash humor? My kind of book.
Unfortunately, Shopping for Buddhas was published way back in 1990 and it's been thoroughly out of print for some time. The publisher Travelers' Tales has come to the rescue, however, with a 25th anniversary edition. I showed up at the nearest book signing and grabbed myself one.
"A Buddha is not a simple thing to shop for," Jeff writes. "He comes in infinite sizes, a full spectrum of colors, and a daunting variety of postures and poses."
Poses, postures — and mudras. Mudras are the various hand positions the Buddha might take, Jeff explains. Each mudra represents one of the Buddhas many attributes. "Fear Not" or "Turning the Wheel of the Law" or "Calming the Ocean."
And, "Once, at a temple in Thailand, I think I saw a gesture called 'Forbidding His Relatives to Fight with One Another.'"
So many shopping choices. So many Buddhas. Enough to fill a book. Thanks, Jeff.
Kevin Griffin: Buddhism for Recovering Addicts
Kevin has written a number of books on Buddhism for folks in recovery. His latest, Recovering Joy: A Mindful Life after Addiction, arrived in my mailbox earlier this week. I cracked it open immediately and searched for tidbits of Buddhist wisdom that might help me as I stumble along on my own rocky spiritual journey.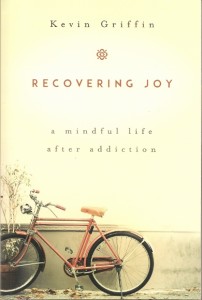 Kevin's title, Recovering Joy caught my eye right away. I've been thinking  about joy a lot lately – specifically joy as a spiritual discipline.
Martin Verhoeven talked about joy in the form of Buddhist equanimity during our interviews for Wrestling with God.  And my book's token atheist, Anthony Mack, talked about the joy of simply being a living, breathing creature on this planet.
In a chapter he calls "Not Unhappy," Kevin writes:
"Before I got sober, I thought [happiness] meant something like being in a good mood all the time or having loads of fun with no responsibilities. That's not how I define happiness now. In fact, several years ago when stuck in a long period of difficult moods, depression, and irritability, I found myself saying, 'I'm depressed, but I'm not unhappy' . . . What I was saying was that nothing was wrong with my life."
Nothing is wrong with my life. That's it! That's the kind of kernel of wisdom I was hoping to get from Kevin.
Yes, I get sad when I remember that my niece has died. Yes, I worry about my rickety knees and belly fat. Yes, I get anxious when I have to get behind a microphone and say something intelligent to a bunch of people I don't know.
I'm cranky, judgy and opinionated. When I'm not being shy, I'm pushy. But I've finally gotten to a place where – humiliating mistakes and missteps notwithstanding – I'm convinced that there's nothing wrong with my life. And that makes me . . . happy.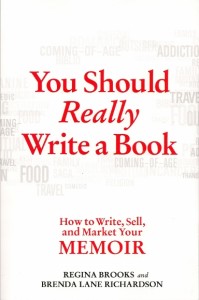 Want to Write a Memoir? Go for It
Also arriving in the mail recently — a copy of a book co-authored by my one-time colleague at the Oakland Tribune, Brenda Lane Richardson.
It's You Should Really Write a Book: How to Write, Sell, and Market Your Memoir, and it's packed with information, practical and inspirational, for the aspiring memoirist — from how to define your memoir's subgenre, to how to get interviewed by on-line radio.
That's it for now. But not to worry, my writer friends are writing away. There's lots more where these came from.
"Shopping for Buddhas: An Adventure in Nepal," by Jeff Greenwald, Travelers' Tales, 2014, $15.95, paper.

"Recovering Joy: A Mindful Life after Addiction," by Kevin Griffin, Sounds True, 2015, $16.95, paper.

"You Should Really Write a Book: How to Write, Sell, and Market Your Memoir," by Regina Brooks and Brenda Lane Richardson, St. Martin's Griffin, 2012, $15.99, paper.
More about Jeff Greenwald at "Can This Guy Make Me a Star?"  More about teaching Buddhism at "Jack Kornfield on Sex, Drugs and Enlightenment." More about my book at WrestlingWithGodBook.com.