Hey Everybody . . .
The Book Passage bookstore in Marin county is hosting an author event for me at 7 p.m., Saturday, April 11, 2015, 51 Tamal Vista Blvd., Corte Madera, California.
I'll be talking and reading from my book, Wrestling With God: Stories of Doubt and Faith, just published by Patheos Press. One of the storytellers in the book, Cerridwen Fallingstar, will be there as well to read parts of her story for you.
The book, which received a starred review from Publishers Weekly, tells the story of my search for a way to believe in God in the twenty-first century. That search took me deep into the life stories of a score of believers of diverse traditions — from atheist to Christian to Zoroastrian. It's a book that I think you will enjoy, whether you are a believer, a doubter, spiritual-but-not religious, or none of the above.
Wine and cheese will be served and we'll all have a good time.
Here's the Book Passage link. See you there.
PS: If it's convenient, message me your "yes" or "maybe." Or just show up.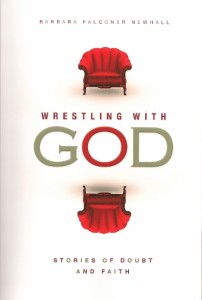 Wrestling with God: Stories of Doubt and Faith, by Barbara Falconer Newhall, with a foreword by Don Lattin, Patheos Press, 2015.