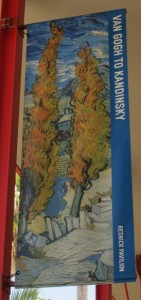 "In a fire, between a Rembrandt, and a cat, I would save the cat." – Alberto Giacometti
"Walk carefully and remember that your lives are more important than a piece of art."  — "The Monuments Men"
By Barbara Falconer Newhall
For Giacometti, the twentieth-century Swiss sculptor, a living thing was more important than an inanimate object, even if that inanimate object happened to be a 300-year-old painting by Rembrandt.
And the heroes of the movie, "The Monuments Men," charged with preventing the destruction of much of Europe's art treasures during the closing months of World War II, were told more than once that human lives, including their own, were more important than the art they hoped to save.
It so happens that the Los Angeles County Museum of Contemporary Art was obliged recently to choose between life and art. I'm happy to report that it opted for life.
That is, it chose to make the wrap-around windows in its in-house coffee shop, Coffee + Milk, a little less pretty and a little more safe.
That was a week ago Wednesday.
Too late for me. Because, just two days before that, while departing Coffee + Milk, I crashed into the crystal clear – and oh-so-aesthetically pleasing – glass wall at the coffee shop exit.
Like any normal, safety-conscious person, I was watching where my feet were about to step as I left the café. Because I was watching where I was going, I did not see the – tastefully faint – cross hatchings located above my gaze in the glass wall next to the open door.
Whack! My forehead hit the glass. Wham! The back of my right hand hit the glass. Bam! My left knee hit the glass.
Not to mention – splash! My latte leapt from my hand and spattered all over me and
what I now realized was not an open door, but an – unframed – panel of glass.
"Are you OK?" my husband and the Coffee + Milk staffers wanted to know.
In situations like this you're supposed to be nice. You're supposed to say, "I'm fine. Don't worry."
But I was not fine. I was in pain. I was rattled. "No, I'm not OK," I bellowed.
The baristas were kind and apologetic. They offered to make me a fresh latte. I declined; I didn't think I could drink it.
The shop manager, also kind and apologetic, showed up.
I bellowed some more. I raised a nice ruckus. I was angry. I lambasted the venerable LACMA for caring more about how things looked than how things might feel when a hapless museum-goer crashes into a crystal clear – and oh-so-tasteful – glass wall.
I let everybody within earshot know that the museum – and these staffers – needed to do something about that glass wall now, before somebody else got hurt.
One week later, my head was still sore to the touch, my knee bruised, and my hand still hurt.
I decided to call the museum press office to find out if there were plans to fix that consarned glass wall.
LACMA is a beautiful museum, I wanted to say. And I loved the paintings I saw last week – expressionists from  Van Gogh to Kandinsky, my favorites. But I thought the museum needed to be a little less beautiful and a little more concerned about the living, breathing organisms that gaze through its glass walls – and sometimes walk into them.
The press office wasted no time connecting me to Brooke Fruchtman, associate vice president of marketing and guest services. Fruchtman – also kind and apologetic – told me that there had been a previous collision with a glass wall at Coffee + Milk, which is run by Patina Restaurant Group. It had taken a few weeks to get a solution designed and installed.
And so, as of last Wednesday, there are now two safety strips on the glass, she said. One at five feet and one at three feet. And they're darker. "If that doesn't work, we are going to frost the entire window."
Those remediation plans were already in the works when I banged my head, hand and knee on the coffee shop wall, Fruchtman said. "We never, never want anyone to be injured here."
Still, I'm glad I bellowed. I like to think it sped things up a bit and maybe spared somebody else a nasty, unaesthetic head banging.
Meanwhile, a little googling reveals that I'm not the first person stopped in her tracks by a glass wall. In the past few years, Justin Bieber, that paragon of youth and cool, has had himself not one, but two, collisions with glass.
More arts and crafts stories at  "The Ghost of 300 Million Drought-Killed Trees Hovers Over a Lake in Texas,"   "Photo Op: Pentwater, Michigan — A Small Town on a Big Lake"  and  "Atotonilco, Mexico: High Art, Folk Art, Hot Springs, Food!"