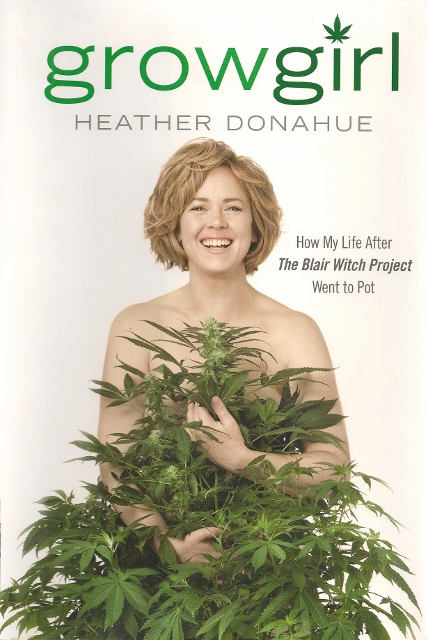 By Barbara Falconer Newhall
Heather Donahue – of "Blair Witch Project" fame – is a writer friend of a writer friend of mine. Otherwise, I would never have bought her book, Growgirl: How My Life After the Blair Witch Project Went to Pot, which is all about the year she spent growing marijuana in the Sierra foothills. The action turns on a lot of stuff I don't do anymore. Like smoking grass and stepping naked into hot tubs. Especially stepping naked into hot tubs.
If Heather weren't a friend of a friend, I might have browsed the Growgirl jacket, just to find out what happened to that wacky, hysterical girl from the 1999 cult film.
But I wouldn't have bought the book. Marijuana is not my cup of tea. A cup of tea is my cup of tea. And by tea I don't mean grass. I mean a nice cup of mild-mannered, law-abiding Arthur Godfrey-endorsed Lipton.
That and my Sunday New York Times, and I'm good.
If it weren't for my writer friend Pat Miller, I wouldn't have skipped dinner with my husband to drive over to A Great Good Place for Books in the Montclair district of Oakland to hear Heather read.
But Pat is a long-time writing partner of mine, you see. I'm going to buy her book when it comes out. And I'm going to buy any book Pat's read – and reread and reread – in the course of friendship with another writer. That includes books with the word pot in the subtitle and marijuana growing all over the jacket.
And so, I bought Heather's book.
And maybe she will buy mine now that I'm hooked, if not on ganja the smoke, then on Heather Donahue the writer.
Notice how I just used the word ganja. It's a new word for me. So are some other words I found flowering in Growgirl. To wit: flopsweat, asstard, larfy, nute, theremin and a mysterious substance called "e."
And I'll be googling those words before I commit them to this blog. (Watch for a post with definitions.) I don't want a bunch of asstards making larfy comments here. My mom is gone, but my kids can read.
So, thanks to Heather, I've got a mess of brand-new vocab words to my name. Also, a brand-new sophistication re: the lifestyle of people living and smoking in the demi-world of pot farming. People whose values I don't share. People I probably wouldn't want to be friends with, almost as much as they wouldn't want to be friends with straight, straight, straight me.
Which tells you something about Heather's skill as a writer. With her spare, pungent writing, she hooked me into her story in spite of myself.
Heather accomplished this in the first few pages of her book. There, we find her in Los Angeles at the age of 34, packing in her city-girl, Hollywood lifestyle and heading for the hills to grow medical marijuana.
I don't know what happened to Heather's acting and movie-making career. It seems to have foundered so miserably that she doesn't even want to write about it. She gives it short shrift in Growgirl, and moves quickly on to the story of her life in "The Community" – renting a house deep in the woods, where she grows marijuana in a spare bedroom and a garage under the exacting tutelage of a close-knit group of local pot growers living without benefit of marriage with their long-haired, sixties-style, earth mother "pot wives."
Some writers have stories I want to hear: Marilynne Robinson, Annie Dillard, Karen Armstrong, Nora Ephron. Others take up topics I'd like to avoid, but they do so with such artistry and insight that I am sucked in.
Heather is one of them. She reminds me of Jon Krakauer, who also writes about topics that don't much appeal to me. In his case, macho men going to war, macho men climbing Everest, macho Mormon men abusing their Mormon wives. But with Krakauer as my guide, in each instance I have survived the testosterone maelstrom.
I'd follow Krakauer to the South Pole, should he invite me along. Which he wouldn't, of course, any more than Heather Donahue would invite me to trim and harvest her marijuana crop.
Instead, Heather has very thoughtfully made it possible for me and other risk-averse former hippies, boomers, and Xers to experience a virtual tour of California's sexy, hairy, hot tubbing, marijuana sub-culture – without leaving the safety of our recliners.
Maybe I don't exactly fit in with Heather's Community. But just because I hope they never invite me over to share a spliff doesn't mean they aren't a pretty interesting group of caring and, by their own lights, ethical people.
If you enjoyed this post, consider getting my regular updates with an email subscription. Just fill in the box at the top of the right-hand column. You can also get updates via Facebook , Twitter or RSS by clicking on the appropriate icon at the top of the right-hand column.
Coming soon: Donahue vocab defined.
Growgirl: How My Life After The Blair Witch Project Went to Pot, Heather Donahue, Gotham Books, 2012, $26 hardcover.
George Leonard shares his thoughts on story ideas in my post "The Tao of Writing."
Heather shares some writing tips on her website. Check it out.