By Barbara Falconer Newhall
You'd think that if you'd read a book five, six, maybe fifteen times, you wouldn't want to read it yet again. But I did. I really did. In fact, when I finally got my very own ink-and-paper copy of my writing buddy's book, "Bamboo Secrets," and I started reading it, I could not put the darned thing down.
I polished it off in a matter of days, forgoing my morning news fix with the New York Times and San Francisco Chronicle for the pleasures of another kind of reality — a painstakingly honest memoir.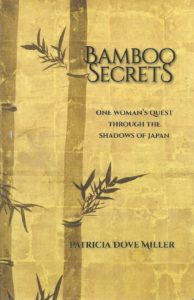 The writing partner in this case is Patricia Dove Miller. The book is "Bamboo Secrets: One Woman's Quest Through the Shadows of Japan." (Illuminated Owl Press, 2016.)
A Search for Identity in Japan
As the title suggests, Pat's book seems to be about an American woman's midlife search for identity during a lengthy, fraught stay in Japan. At least, that's what I thought the book was about as Pat and I and our writer-musician friend Betsy Blakeslee shared manuscripts, talked about writing, ate, laughed and walked together — once a month, faithfully, for several years.
But when I finally sat down to read the entire finished book, just me and the page, another story emerged. It was a theme I had known was there, but had not noticed. This was an honest-to-goodness love story.
Along with her quest for her life's purpose, Pat was telling the story of a marriage, a deep friendship with staying power. It was a marriage that endured the initial shock of the husband's sudden arrest in Japan on charges of marijuana possession. It was a friendship that survived the months of isolation that ensued when the couple was shunned by friends and colleagues as Japanese authorities deliberated whether to sentence the husband to prison.
Practicing the Art of Marriage
Readers will enjoy the company of Patricia Dove Miller as she attempts to practice the Japanese arts of ikebana, calligraphy and shakuhachi flute. But for some, the real gift of this book will be the glimpse it gives into the practice of the more elusive art of marriage.
Enough from me. Here's an excerpt from Kirkus Reviews on "Bamboo Secrets."
Kirkus Reviews "Bamboo Secrets"
This debut memoir recounts how an American woman's planned sojourn in Japan becomes a tense bureaucratic nightmare after her husband's drug bust.

In 1992, Miller was 51 and trying to discover herself. Following her husband, Steven Solomon, to Kyoto, where he would be researching anthropology at the university, was an easy decision. She wanted to pursue her interest in Japanese aesthetics, Zen, andplaying the shakuhachi, or bamboo flute, as both music and meditation. But, she writes, "I didn't know that our dream and my personal quest would all smash into a thousand shards, like a dropped teapot." In January 1993, Solomon was arrested for having marijuana (taken very seriously in Japan) mailed to him from the United States, beginning an excruciating two-month anxiety dream as the Japanese legal system painstakingly investigated and made its decisions. Meanwhile, Solomon lost his job and apartment, presenting logistical hassles in finding affordable places to live that that would accept them and that complied with the system's rigid rules. As Miller dealt with the blow to her marriage—she'd believed Solomon was clean—she seized opportunities to visit beautiful places and study Japanese arts. Her need to break the silence about this experience led to earning an MFA in creative writing and this book. Miller writes with honesty, clarity, and insight about her dilemma: "I want to love Japan in spite of all it has put me through," a sentiment applicable to Solomon also . . . A well-written, sensitive portrayal of coming to terms with a disrupted Asian idyll.

— Kirkus Review Posted: Nov. 26th, 2016