By Barbara Falconer Newhall
Hey, everybody. I've got my IPPY gold  medal in my hot little hands, and it's a beaut. As many of you know, "Wrestling with God: Stories of Doubt and Faith" won a first prize — an Ippy — in the 2016 Independent Publisher Book Awards.
The  awards ceremony took place Tuesday evening at the Skydeck on the 99th floor of Chicago's  — very tall — Willis Tower. And since Jon and I planned to be in the Midwest paying our brand-new granddaughter a visit, we decided to swing by Chicago to pick up the gold and drink a little self-congratulatory toast with the other IPPY winners.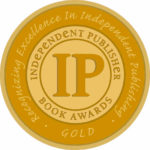 The Independent Publisher Book Awards has dozens of categories — 80 to be exact. "Wrestling with God" won first prize IPPY gold in the Religion Eastern – Western category.
The ceremony took place on the eve of the BookExpo America book publishing convention, which is being held in Chicago this year. Jon and I spent Wednesday at BookExpo checking out the new books — memoirs and God books for me, thrillers for Jon.
IPPY Gold and INDIEFAB
The IPPY award is not the same as the INDIEFAB award, btw. The latter is presented by Foreword Review, and WWG is still one of 16 finalists in its INDIEFAB category. Those results will be announced in Florida next month at the American Library Association convention.
Organizations like the Foreword Review and the Independent Publisher Book Awards run competitions and promotions for books from small publishers and self-published books. You have to pay to enter, but if you win, it definitely helps your book to stand out from the crowd.
Yippee. I've been needing a little encouragement in the "Wrestling with God" department, and here it is.
More missives from The Writing Room at "You've Got the Agent, You've Got the Publisher, but Do You Have the Publicist?"  Also, "Making Friends — Trying To — With the Dread Serial Comma."