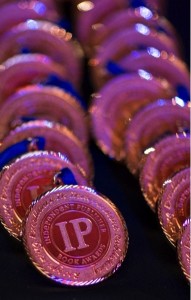 By Barbara Falconer Newhall
Great news! "Wrestling with God" has won a gold medal IPPY  in the annual Independent Publisher Book Awards. That's first place. Yea! The category is Religion, Eastern-Western.
As many of you know so well, "Wrestling with God" comes out of my experience as the religion reporter at the Contra Costa Times in the San Francisco Bay Area. The book follows my rocky pilgrimage through the religions of the world in search of a way to believe in God  — or something — in the 21st century.
Believers, Doubters, Seekers and Nones
Along with my story, WWG tells the first-person stories of a score of diverse Americans of varied religious traditions and temperaments. It's a book for believers, doubters, seekers and the ever-growing legions of "none-of-the-aboves."
You can get "Wrestling with God" as a paperback, or as an ebook for your Kindle or Nook.
What's an IPPY?
As for the IPPY awards — here are some details from the Jenkins Group of Traverse City, Michigan (one of the world's great spots), which sponsors the prizes:
Each year since 1996, the Independent Publisher Book Awards competition has identified a reading list of progressive, thought-provoking books, the kind that can touch lives, advance careers, and stretch our imaginations.
With the tag line, "Recognizing Excellence in Independent Publishing," the IPPY Awards showcase the best books from throughout North America and the English-speaking world. The awards were launched as the first unaffiliated awards program open exclusively to independent, university, and self-published titles.
Awards at Book Expo
Awards are presented each spring at a gala ceremony during the BookExpo America convention, which this year takes place in Chicago in May. Winners receive gold, silver and bronze medals and foil seals for their book covers.
The Regional IPPY Awards identify the best books published in about eight U.S. regions, two Canadian regions, Australia/New Zealand, and Europe. In recognition of changing publishing technology, it now includes ten e-book categories.
All entrants are automatically considered for a short list of Outstanding Books of the Year, recognizing titles that break new ground in specialized categories such as "Most Original Concept," "Most Likely to Save the Planet" and "Outstanding E-Book Achievement."
The IPPY Awards are presented by publishing services firm Jenkins Group of Traverse City, Michigan, and IndependentPublisher.com, "the online voice of independent publishing."
More about WWG at "A Riverflow of a Book" and "WWG Gets a Starred Review From Publishers Weekly."
"Wrestling with God: Stories of Doubt and Faith," by Barbara Falconer Newhall (Patheos Press, 2015)
Michelle Lenger's cover for WWG has been submitted for design awards. Wish her luck!