By Barbara Falconer Newhall
So many books. So little time. And a manuscript deadline looming so near.
Titles at the Top of My Gotta-Read List
Consider the Birds: A Provocative Guide to the Birds of the Bible, by Debbie Blue, Abingdon, $16.99 paper.
Debbie Blue is a wonderful preacher and spiritual director. She helped me shape the book that's keeping me from reading hers. Debbie could write about the cracks in the sidewalk and I would find it inspirational. I can't wait to hear what she has to say about – birds.
Distilled Spirits, Getting High, Then Sober, With a Famous Writer, a Forgotten Philosopher, and a Hopeless Drunk, by Don Lattin, University of California Press, 2012.
Don is a religion writing colleague of mine, and I really want to read the – sometimes dark – memoir-y parts of this book. I also find Aldous Huxley (famous writer), Gerald Heard (forgotten philosopher) and Bill Wilson (the drunk) pretty interesting.
The Fourth Gospel: Tales of a Jewish Mystic, by John Shelby Spong, HarperOne, 2013, $26.99 hardcover.
I don't always like what the controversial Spong has to say, but I always want to hear it. This time Spong turns his attention to the Gospel of John and declares it to be a Jewish book – specifically a book of Jewish mysticism that celebrates a Jesus "in whom a new God consciousness had emerged."
Philosophy for Life and Other Dangerous Situations: Ancient Philosophy for Modern Problems, by Jules Evans, New World Library, 2013, $15.95 paper.
Ideas that emerged in the West thousands of years ago still apply, writes Evans. The ancients – like the modern practitioners of cognitive behavioral therapy – believed that the human psyche is malleable, not fixed. Which means that, "when we change our opinion about something, our emotions also change." Brand-new idea or really ancient, I like it.
Books About Families – Lost and Found
Hidden Lives: My Three Grandmothers, by Carole Garibaldi Rogers, Serving House Books, 2013, $15 paper.
I know Carole from my youthful New York City days when we were both starting out as writers. I had no idea Carole's family tree was so interesting. Three grandmothers? One of them disappeared from Carole's family history, and she wants to find out why.
Mama's Child: A Novel, by Joan Steinau Lester, Atria, 2013, $15, paper.
I experienced a version this book ages ago when it was still in its earliest permutations. Joan and I were in a workshop together at Squaw Valley Community of Writers one summer. The topic of her book was as painful then as it is now – the estrangement of a mother and a beloved child.
If It's an Inspirational Read You Seek
The Twible: All the Chapters of the Bible in 140 Characters or Less , by Jana Riess, Jana Riess, 2013, ebook.
Jana — a blogger for Religion News Service and the author of Flunking Sainthood: A Year of Breaking the Sabbath, Forgetting to Pray, and Still Loving My Neighbor — has written a tweet for each of the 1,189 chapters of the Bible. The result is the Bible in ebook form, "with 68% more humor and 99% fewer begats!"
My favorites: Jana's version of Samuel 20 — "Bible's finest bromance. Dave + Jon = BFF's. Jon disobeys Saul to protect Dave. Bitter tears and pinky promises at parting. Sniff."
Also her take on John 9 —  "JC uses his own saliva to heal a man born blind, so the first thing the guy sees is a stranger spitting on him. Hello, cruel world."
This is not a starter Bible; it will be most appreciated by faithful, but exasperated, scripture-reading Christians.
City of God: Faith in the Streets, by Sara Miles, Jericho Books, 2014.
A personal narrative by an Episcopalian lay minister who brashly takes the ashes of Ash Wednesday to the streets and foreheads of San Francisco. (It's a review copy that sits on my desk — watch for this book early next year.)
Finding God in a Bag of Groceries: Sharing Food, Discovering Grace, by Laura Lapins Willis, Abingdon, 2013, $15.99 paper.
While exploring whether she was being called to the Episcopal priesthood, Tennessean Laura Willis found a rich vocation in a simple food pantry.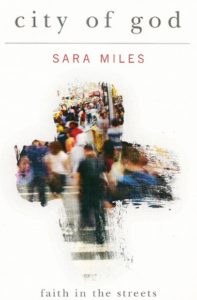 Pastrix: The Cranky, Beautiful Faith of a Sinner & Saint, by Nadia Bolz-Weber, Jericho Books, 2013, $22 hardcover.
Nadia is a funny lady. Edgy too. She's got tattoos all over her, and expletives fall regularly from her mouth. But that doesn't keep her from doing her Lutheran minister thing – talking shamelessly about sin.
The President's Devotional, by Joshua DuBois, HarperOne, November, 2013, $24.99 hardcover.
DuBois was Executive Director of the White House Office of Faith-based and Neighborhood Partnerships during Obama's first term. He was also on hand during the first presidential campaign, when it seemed to DuBois that the candidate could use a little inspiration emailed to him daily. This book presents a selection of 365 of DuBois' daily messages to the president.
Books for the History Buff . . .
A Jefferson Bible for the Twenty-First Century, edited by Luis Granados and Roy Speckhardt, Humanist Press, 2012, paper.
Thomas Jefferson had no compunctions about taking a pair of scissors and a pot of glue to his Bible – deleting the dross (the miracles and the virgin birth) and holding on to the wisdom (the Beatitudes). For this edition, the book's humanist editors tacked on ( a little hastily, in my opinion) what they boldly declare to be "the best and the worst" of other scriptures, including the Qur'an and the Buddhist Sutras.
The Saint Who Would Be Santa Claus, by Adam C. English, Baylor University Press, 2012, $24.95.
Don't believe in Santa Claus? Wish you could? English, a bona fide academic and theologian (he's Associate Professor Theology and Philosophy at Campbell University), has got some true life details for you about a real guy, Saint Nicholas of Myra.
 . . . and the Sci Fi Afficionado
The Whale Song Translation, by Howard Steven Pines, Pacific Reefs Publishing, 2013, paper.
This sci fi novel stars an acoustics professor who's analyzing the songs of humpback whales threatened by the U.S. Navy's sonar experiments. It's an intriguing and timely premise with a promised "astonishing revelation" that leads to — trouble. I've been thinking about whales a lot lately and am looking forward to hearing what my writer friend will add to the conversation.  PS: Go to Howard's website to hear some really cool whale songs — do it!