By Barbara Falconer Newhall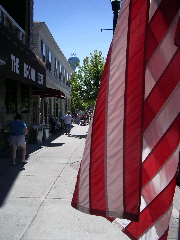 It's the Fourth of July 2007, and the Scottville, Michigan, Clown Band — famous in those parts — is struting its stuff in the streets of nearby Pentwater. I got a seat right on the curb, with a pretty good and only partially obscured view.
Oh, say can you see  — through those legs?
Photos by B.F. Newhall